Site's Search Engine
--

---
---

When you read this page it is worth to notice that this file appeared seriously "hacked" - swelling from 250kb to 504kb! - and becoming for many times QUITE IMPOSSIBLE to save in a "proper" presentation. Even during the very actual correction a lot of impromptu, useless "tags" appear, wasting its layout and even damaging its text.



The present file should continuall

y be faced with the English new file renamed

Fake-mysterious assaulters against biological targets

:

on its old bilingual page - Italian and English - and with its previous name

Pseudo-misteri e coinvolgimenti biologici / Fake-mysteries on biological targets

can be read as chapter on the Appendix of the current edition of the book:

It's Abuse NOT Science Fiction



Foremost assumption
This site and the book do NOT be a fount of notices but an
ENCYCLOPEDIC
gather of
different subjects
coming from
different sources
and shared by
different Authors
: one another to be read time by time, or better to be
CONSULTED
even for learning,
The need to specify meanings and keys of reading introduces in EVERY file in the site methodological and/or instructing/founding additions: a rigorous methodological specification suggests to consider as valid information - in decreasing order:
the concretely documentable observations of FACTS and OBJECTS
in default of objects concreteness their shape shown with images (*)

personal instinctive

- not thought of - testimonies
spontaneous, unprepared, not re-read

first hand

writings,
movies and voice recorded data
direct media news - not descriptive essays
and - far behind, in the last position - the "Masters"
(*) Consequently in the site every image should be also a link to the place it comes from and - as for every other link - constantly watched and up-to-dated.
(**) "Oral" reports can be videotaped and/or voice recorded, but if only

transcribed or

reported by a third person

they

lose

their primary characteristic of sure faithfulness.

Together with "deeds" and "things" as protagonists, the written first hand impromptu testimonies do be

foundation of this whole work.

I

n order to avoid futile debates on the AUTHENTICITY of the FIRST-HAND reports, should be considered an assertion coming from the professional experience: to bring up serious traumatic recalls it is easier

to write than to speak

.
We do not "grade" suffering nor abuses: every harm is subjectively worth and should be worthy cared; but our aim is to high lightly share the less common harms and the most evil abuses: this page commits its mainly space to experiments, structured abuses, military and spy drill perpetrated on children.

Please do not copy or re-use without permission.
All rights reserved. All Content © unless otherwise noted.
Listing is not necessarily endorsement.
This listing is not meant to be comprehensive.

Any way if this site and every inner files are Copyright, moreover they hold subjects not only serious as much also dangerous: then we warn to copy and paste without asking ourselves and without quoting their REAL SOURCE. In fact such mishap happened more than once besides also awkwardly and/or into awkward sites.

To save files more often damaged they are also on PDF version, ready to be also printed on PAPER.
---
It'ìs Abuse NOT Science fiction / Gli Abusi mentali, fisici e tecnologici NON sono Fantascienza
This powerful, more puzzling
creative modification
of the
Goya
's
Sleep of reason
- marked by the
official Copyright
- here is used as
book cover's image
, and explained by the
Designer
:
Andrzej (Andrew) Suda:
should look just like many of the events described by the victims: they exist, are bothersome, and we don't know exactly WHY they are there but they are there…
About the Book
This book not only documents the case of Andrzej Suda, it is also filled with documentation from the worlds most influential documented cases of psychological abuse, electronic harassment, organized stalking and mind control. Some cases include
Rauni Leena Kilde MD.,

Dr. Reinhard Munzert

,

Kathy Sullivan

,

David Larson
, and many others... Please support the truth with the purchase of our book. This will document many technologies and mind control weapons that have been kept hidden from the mainstream public. Over 600 pages of action packed
TRUTH
The 2005 book It's Abuse NOT Science Fiction required to be UP DATED, to share the consequent novelties. Further this principal book will be printed on a real new edition to wholly gather its changes: but for the time being with the previous title integrated by the words UP-TO-DATE DOSSIERS - the Association launched a supplementary book - supplementary but authoritative and self-sufficient not only for propose simple improvement, rather mostly to share new important TESTIMONIES. This file is its 2 chapter; any way excerpts of this page can be already reached also as file on another Web site and as chapter 15 on the derived book - From children of YESTERDAY to adults of TOMORROW .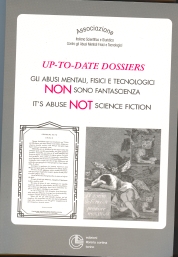 The book previously published at present needs to be modified. It's Abuse NOT Science fiction published on July 14 2005 shortly became OUT OF DATE. So it required somehow to be renewed and settled to present the consequent novelties coming from readers comments, from new deeds and MOSTLY on present-day flash-back disclosures - to note that for some victims it is easier to write than to speak.
UP-TO-DATE DOSSIERS of It's Abuse NOT Science fiction = Gli Abusi mentali, fisici e tecnologici NON sono Fantascienza for the time being is supplementary book, supplementary but matching also by itself not only for propose simple improvement, rather to share some new particular important FIRST HAND documents: on book as chapter 2


---
To a better use of the site:

This site and the derived books do NOT be a fount of notices but an ENCYCLOPEDIC gather of different subjects: one another to be read time by time, or better to be CONSULTED even for learning. And so this Web site will always be maintained under speedy and diligently revised construction: to be found on Aggiornamenti e Indici for up-dates and disclaimers: more easy: English Up-dates, For book and illustrated indexes go to: Libro/Book, Pagine Fuori Testo Introduttive; to general information go at Presentazione e indice ragionato: come cominciare / Preamble: how to begin.


Leading book: It'ìs Abuse NOT Science fiction / Gli Abusi mentali, fisici e tecnologici NON sono Fantascienza
Supplement: Up-to-date Dossiers


Corso Marconi 34/a 10125 Torino (ITALY) giuliana@cortinalibri.it, ordini@cortinalibri.it
Phone: 0039 0116507074 / 00390116508665
Fax: 00390116502900
---
Aphorisms
---
Watch
The endeavor of this whole work will make known the most of what came on our awareness, but it is basic also to focus on WHO can be the involved people
who better informed - as victim or witness - can give more and deeper data and can correct our misunderstanding
who - already aware of these deeds - can take part on researches watching for new references and acting to broadly share the matter
who becomes aware of this for the first time but is willing to know more
who doesn't decline but admits to prefer not to be involved
who openly affirms to be too much moved and better agree other topics
who too much occupied on other fields, could seem as indifferent but not on purpose
who doesn't declare a lack of interest, but in a belittling if not mocking way
who - on the contrary - states and broadly shares nonsensical "opinions" and abstruse dogmatic "ideologies"
who generalizes vague statements based on a personal narrow experience
who as real "victim" of a precise mishap makes him/herself as the unique, absolute "spokesperson" of every kind of sufferers, as champion fighting against a believed "Absolute Evil"
who - on the other side - thinks that some not usual deeds, even current occurrences are only a variety of fairy tales or of science fiction movies
who - perhaps the WORSE - commits even the worse abuses as living beings were toys or characters of a laughing tale: not for wickedness, not for bad purposes whilst for "curiosity and stupidity", for dull indifference.
Crucial advice: never do mix-up differences with similarities.
---
The risk is to sliding into a
culture of resentment
. Such logic leds to the creation of a culture of resentment, whose only solution was to do away with the "other". The fact is, the culture of resentment – pertaining to
slave morality
- is extremely diffuse. Too surely convinced suspicions, strict persecutory belief, blatant victimization: are they a protection or rather the mainstream ways to be duped? Skepticism? Disbelief? Are they science and awareness or facets of another SUPERSTITION?
---
---
It's Abuse NOT Science Fiction (???)

Perhaps it is a universal truth that the loss of liberty at home is to be charged to provisions against danger, real or pretended, from abroad.

The greatest dangers to liberty lurk in insidious encroachment by men of zeal, well meaning but without understanding.

Statement of meaning
---
Method
the ones introducing human cases
the others explaining deeds by presenting objects.
White phosphorus
Explanation and purposes: "slavery
Real is rational, but "rational" by itself doesn't means ever "true"
---
Titles do not prevail to CONTENT
Opinions or worse: accusations? Controversy?
Advanced technologies


Oaxes and rumors or true facts? Kidnapped normal children to construct artificial devilish "monsters"?

"Multiple Personality Disorder"

?
It is easy to speak in a conjectural way on regard of
"Multiple Personality Disorder"
. but here are depicted in total spontaneity two "personalities" -
Monk
and
Letitia
- the two "multiples" trained to become killers and spies after being built during
structured abuses
.
The "protagonist" of these terrible mishaps expressed this picture during a very poignant, painful flash-back, together with some very explanatory writings. The most of the texts are in Italian but a shortened translation in English can be reached on
Esperimenti su bambine/i
at the sub chapter:
translation
.
---
---


Tyrants don't devour you: they devour your FEAR.... lI libro dei senza paura -
The book for fearless people: a hand book to teach children for fight their fears -





---
"Fear"
believes to keep safe on building barricades: and then narrows spaces, knowledge, relationship and understanding... and widens on return new fearfulness and dependency.
And here below a mail presenting a new book
suggests a deep method to investigate
: nevertheless of its subject and field of research regard only a single case.


Dear Colleagues in the

Fight Against Organized Child Abuse,
I have known
Nick Bryant
since 2002 when he was in the early stages of unraveling the history of the
pedophile network
that operated out of Omaha, Nebraska, in the 1970s and 1980s, first exposed on a large scale in Senator John DeCamp's 1992 book, The Franklin Cover-Up.
For seven years, Nick Bryant has devoted himself tirelessly to the investigation of this case. He has flown all over the USA to meet the victims, earned their trust, and interviewed them in depth. He has poured through original documents, Omaha Police Department reports and internal memos, Nebraska State Patrol reports, Nebraska Department of Social Services reports, internal Boys Town reports, victim debriefings, hundreds of the ring's airline receipts, and court transcripts never before reviewed. He has scrutinized all of this data with a critical eye, and set his own standard of at least triple-corroboration for all of his facts. Nick Bryant has found irrefutable evidence of a cover-up of a

transcontinental

network of child sex trafficking by the FBI, Secret Service, and Department of Justice. Many of these children were accessed through the foster-care system; many were accessed through Boys Town. I feel that I know Nick Bryant well enough to say that his ethics and investigational rigor are impeccable.

This book does not offer speculation. It offers facts.

If any person or organization, e.g., the False Memory Syndrome Foundation, launches an attack on this book, they will find themselves defeated by a rock-solid wall of verified facts.
This book is oddly pleasant to read - [as also the Wanda Karriker's book: Morning comes quickly] - The tone is friendly, personal, even funny at times. Nick Bryant shares with the reader his personal reactions to the unsettling events that occur during the investigation, and the evidence that he uncovers. Nick Bryant has made other major contributions to our world, including his book, America's Children: Triumph of Tragedy, addressing the medical and developmental problems of lower socioeconomic children in America. His writing on the plight of disadvantaged children has also been extensively published in many peer-reviewed journal publications.
The Franklin Scandal may be his most ground-breaking work because it reveals evidence of complicity in the abuse of children

by institutions that are supposed to protect them

, and may help to make our systems more accountable and responsive to abused children.
Nick's book, The Franklin Scandal, is being released this week, and is available at: www.franklinscandal.com .
See the press release below. Note the connection of the Franklin case to ritual abuse in the second-to-last paragraph below. Feel free to circulate and re-post this message.
Warmly, Ellen Lacter, Ph.D. Psychologist in San Diego, California, USA

PRESS RELEASE: New Book Exposes Pedophilia, Government Officials and Cover-up
For Release: Immediately Contact: Kent Goodman, TrineDay Books Publicity Director
(541) 954-8142 kgoodman@amselmedia.com
Website: www.franklinscandal.com
THE FRANKLIN SCANDAL, by Nick Bryant, will be the first commercially published book to tell the s

hocking true tale

of the

power elite

involved in the most despicable crimes against children. These youths were used and abused for entertainment, and knew what would happen to them if there ever came clean. In one case, a young girl had been abused since the age of 14, she refused to recant her abuse, and she was sentenced to prison for 9-15 years on trumped up charges.

BoysTown statement:
Every child who arrives at Boys Town has a story to tell. A story of neglect and abuse... of disappointments and devastation. You make it possible for us to provide a home, and more importantly, healing. Thank you for being a part of a bright future for our children.

The nationwide trafficking ring was run by a pair of Republican powerbrokers who used the venerable Boys Town as a

pedophile reservoir

; they had access to the highest levels of our government, and connections to the CIA.



Nebraska legislators nearly exposed the ring, but its unveiling had the potential to produce

seismic political aftershocks

. This resulted in a

rash of deaths

and a full court press by federal law enforcement, including the FBI, Secret Service, and Justice Department, not to mention the mainstream media, effecting an immaculate cover-up of the trafficking network. and a former US State and federal grand juries in NebraskaAttorney for the District of Columbia also played an integral role in the cover-up. Moreover, author Bryant shows that a number of officers of the court who participated in the cover-up experienced upward mobility in either the state or federal judiciaries.


Bryant has spent seven years researching this book and he's traveled approximately 40,000 miles. He's had access to thousands of documents that would ultimately be sealed by two grand juries. His documentation includes FBI reports and interoffice memos, Omaha Police Department reports and internal memos, Nebraska State Patrol reports, Nebraska Department of Social Services reports, internal Boys Town reports, victim debriefings, hundreds of the ring's airline receipts, etc. He's also interviewed several of the network's victims who are now young adults.

The FRANKLIN SCANDAL also tackles the issue of

ritual abuse

. Indeed, some of the victims that Bryant has interviewed have confessed to being ritually abused. To corroborate their accounts, Bryant's book highlights several studies published in academic journals that back up the reality of this heinous practice, including a study conducted by Young et al. published in the Journal of Child Abuse and Neglect -[look at newest scripts: Child Abuse & Neglect], and the Extreme Abuse Survey conducted by Becker et al. The author also discusses the Finders and sheds insights into its activities that have eluded many researchers.

Nick Bryant's writing has recurrently focused on the plight of disadvantaged children in the United States, and he's been published in numerous national journals, including the

Journal of Professional Ethics

,

Journal of Applied Developmental Psychology

,

Journal of Social Distress and Homelessness

,

Journal of Health Care for the Poor and Underserved

, and

Journal of School Health. He has also published a book, America's Children: Triumph of Tragedy,

addressing the medical and developmental problems of lower socioeconomic children in America.


Sleeping reason breeds monsters and monsters? Then it is compelling to

WATCH, to WATCH. to WATCH

. Ever should be rejected not documented mere asserptions together with not probed even oneself's own feelings.

DOUBTS

must be ever the

foremost GUIDES

for sustaining

to MIND

and

WIDE RANGE AWARENESS.
---
---
Another Web site and its related books expound explicit or only alluding considerations explaining our point of view and their roots: go to Consciousness and memory, My guides... my roots; besides the

English index

which endorses our basics as a real statement of meaning.


Cosa ho in comune io con gli schiavi? Piero, Ada e la scuola della libertà
Quando la cartella clinica è terapeutica

Pdf links


Mental, physical and technological abuses: NOT science fiction

.

To rearrange, make known and divulge all the collected material – especially unpublished - in November 2002 the

Italian Association, Scientific and Juridical, Against Mental, Physical and Technological Abuses

– acronym

aisjca-mft

– was founded and its mouthpiece Web site was put on the Net; then, in July 2005, the whole Web site – how it looked like at that time – became also an

ENCYCLOPEDIC

book. But, because of its own statutory nature a Web site – contrary to a printed book – can't be a "finished" work: in fact it

DOES NOT

aim at providing purely historical documentation, but at collecting a

CONTINUATIVE

adjournment about facts and testimonies. Thanks to this dynamism requests and debates concretize into other "facts" and these debates do not remain theoric discussions. And so, in this years, in conformity with these presuppositions, some files have been greatly modified and others completely created: with new information about facts and authentic texts of testimonies which are still being collected. Then came the impellent necessity to publish in preview this new data as a

SUPPLEMENT

of the main book, before starting its real second edition not only revised but also even better adjourned.
Every link and quotation will continously refreshed


---
Book cover: International Copyright © January 4 2005 (Certificate 143935559)
Web pages Copyright: International Copyright © May 6 2006 (Certificate 149917786)
Book copyright: International Copyright
©
August 5 2005 Associazione italiana, scientifica e giuridica contro gli abusi mentali, fisici e tecnologici - All rights reserved (Certificate 149917786)