(

An extraordinary 95 percent of all Americans have at least heard or read something about Unidentified Flying Objects (UFOs), and 57 percent believe they are real. (1) Former US Presidents Carter and Reagan claim to have seen a UFO. UFOlogists--a neologism for UFO buffs--and private UFO organizations are found throughout the United States. Many are convinced that the US Government, and particularly CIA, are engaged in a massive conspiracy and coverup of the issue. The idea that CIA has secretly concealed its research into UFOs has been a major theme of UFO buffs since the modern UFO phenomena emerged in the late 1940s



(

As always we quote

textually

the following past text, any way hinting that at

December 30 2014

CIA declared the coverup of the kind of the so called

Unidentified Flying Objects - UFOs)

The stimoceiver is a miniature depth electrode which can receive and transmit electronic signals over FM radio waves. By stimulating a correctly-positioned stimoceiver, an outside operator can wield a surprising degree of control over the subject's responses. Mystery still shrouds another area of study, the area which seems to have most interested ORD: psychoelectronics. This research may prove key to our understanding of the UFO abduction phenomenon. Perhaps the most interesting pieces of evidence surrounding the abduction phenomenon are the intracerebral implants allegedly visible in the X-rays and MRI scans of many abductees [23]. Indeed, abductees often describe operations in which needles are inserted into the brain; more frequently still, they report implantation of foreign objects through the sinus cavities. Many abduction specialists assume that these intracranial incursions must be the handiwork of scientists from the stars. Unfortunately, these researchers have failed to familiarize themselves with certain little-heralded advances in terrestrial technology. The abductees' implants strongly suggest a technological lineage which can be traced to a device known as a stimoceiver, invented in the late '50s - early '60s by a neuroscientist named

Jose Delgado

. The stimoceiver is a miniature depth electrode which can receive and transmit electronic signals over FM radio waves. By stimulating a correctly-positioned stimoceiver, an outside operator can wield a surprising degree of control over the subject's responses. The most famous example of the stimoceiver in action occurred in a Madrid bull ring. Delgado "wired" the bull before stepping into the ring, entirely unprotected. Furious for gore, the bull charged toward the doctor -- then stopped, just before reaching him. The technician-turned- toreador had halted the animal by simply pushing a button on a black box, held in the hand [24]. Delgado's

Physical Control of the Mind: Toward a Psychocivilized Society

[25] remains the sole, full-length, popularly-written work on intracerebral implants and electronic stimulation of the brain (ESB). (The book's ominous title and unconvincing philosophical rationales for mass mind control prompted an unfavorable public reaction -- which may have deterred other researchers from publishing on this theme for a general audience.) While subsequent work has long since superseded the techniques described in this book, Delgado's achievements were seminal. His animal and human experiments clearly demonstrate that the experimenter can electronically induce emotions and behavior: Under certain conditions, the extremes of temperament -- rage, lust, fatigue, etc. -- can be elicited by an outside operator as easily as an organist might call forth a C-major chord.

Delgado writes:

Radio stimulation of different points in the amygdala and hippocampus in the four patients produced a variety of effects, including pleasant sensations, elation, deep, thoughtful concentration, odd feelings, super relaxation, colored visions, and other responses. [26] The evocative phrase colored vision clearly indicates remotely-induced hallucination; we will detail later how these hallucinations may be "controlled" by an outside operator.

Speaking in 1966 -- and reflecting research undertaken years previous -- Delgado asserted that his experiments

support the

distasteful conclusion

that motion, emotion, and behavior can be directed by electrical forces and that humans can be controlled like robots by push buttons

.[27]

He even prophesied a day when brain control could be turned over to non-human operators, by establishing two-way radio communication between the implanted brain and a computer [28]. Of one experimental subject, Delgado notes that the patient expressed the successive sensations of fainting, fright and floating around. These 'floating' feelings were repeatedly evoked on different days by stimulation of the same point... [29] Ufologists may recognize the similarity of this sequence of events to abductee reports of the opening minutes of their experiences [30]. Under subsequent hypnosis, the abductee could be instructed to mis-remember the cause of this floating sensation. In a fascinating series of experiments, Delgado attached the stimoceiver to the tympanic membrane, thereby transforming the ear into a sort of microphone. An assistant would whisper How are you? into the ear of a suitably "fixed" cat, and Delgado could hear the words over a loudspeaker in the next room. The application of this technology to the spy trade should be readily apparent. According to Victor Marchetti, The Agency once attempted a highly sophisticated extension of this basic idea, in which radio implants were attached to a cat's cochlea, to facilitate the pinpointing of specific conversations, freed from extraneous surrounding noises [31].

Such "advances" exacerbate the already-imposing level of Twentieth-Century paranoia: Not only can our phones be tapped and mail checked, but even TABBY may be spying on us! Yet the ramifications of this technology may go even deeper than Marchetti indicates. I presume that if a suitably-wired subject's inner ear can be made into a microphone, it can also be made into a loudspeaker -- one possible explanation for the "voices" heard by abductees [32]. Indeed, I have personally viewed a strange, opalescent implant within the ear canal of an abductee. I see no reason to ascribe this device to alien intrusion -- more than likely, the "intruders" in this case were the technological inheritors of the Delgado legacy. Indeed, not many years after Delgado's experiments with the cat, Ralph Schwitzgebel devised a "bug-in-the-ear" via which the therapist -- odd term, under the circumstances -- can communicate with his subject [33]. Other researchers have made notable contributions to this field. Robert G. Heath, of Tulane University, who has implanted as many as 125 electrodes in his subjects, achieved his greatest notoriety by attempting to "cure" homosexuality through ESB. In his experiments, he discovered that he could control his patients' memory, (a feat which, applied in the ufological context, may account for the phenomenon of "missing time"); he could also induce sexual arousal, fear, pleasure, and hallucinations[34].
Rapimenti e impianti Alieni (?)

Allora si scriveva che da circa 10 anni, il numero di coloro che ricordano di aver vissuto esperienze davvero strane durante l'infanzia e/o nell'età adulta, concernenti il presunto rapimento da parte di entità intelligenti aliene, è in costante aumento. Una volta 'prelevato' e - di solito - trasportato in un luogo descritto, ora come una astronave, ora come una base sotterranea, il soggetto viene sottoposto ad una sorta di esame medico nell'ambito del quale gli vengono prelevati campioni di sangue, di ovuli (se femmina) o di sperma (se maschio). A partire dalla seconda metà degli anni ottanta, qualche ricercatore cominciò a riferire che, alcuni dei rapiti, ritenevano che fossero stati installati degli oggetti artificiali nei loro corpi. Tali impianti, affermavano gli individui in questione, consistevano - nella maggior parte dei casi - in minuscoli congegni inseriti (tramite delle sonde) nel naso; i soggetti se ne erano resi conto in quanto, subito dopo il supposto rapimento alieno, senza alcuna evidente ragione patologica od organica, avevano incominciato ad avere frequenti episodi di epistassi (ossia perdita di sangue dal naso), preceduti da episodi notturni di lieve entità scoperti in seguito al ritrovamento di tracce ematiche sul cuscino. Nel corso dei restanti anni ottanta, fino ad arrivare ai giorni nostri, il numero degli individui che si ritengono fatti oggetto di 'rapimento' da parte di 'alieni' e, allo stesso tempo, di aver subito l'innesto - in qualche punto del corpo - di un piccolissimo 'oggetto estraneo', è salito vertiginosamente fino a riguardare un rapito su quattro. Nei racconti di questi ultimi, vengono indicati punti diversi del proprio corpo quale sede del supposto micro-impianto: il naso, la testa, l'orecchio, e la bocca. Più raramente, si riferisce di 'oggetti' installati in punti diversi da quelli ora citati.

Estrazione di micro-impianti
Per questo, molti ricercatori si sono dedicati alla ricerca di impianti chirurgici di questo tipo nell'intento di dimostrarne l'origine allogena. Il più delle volte, tale risultato è stato disatteso ma, nel caso del rapimento di Pat Parrinello ('prelevato' già all'età di 6 anni), ad esempio, è stato segnato un punto a favore. Quest'ultimo, difatti, è stato uno dei primi a sottoporsi ad un intervento chirurgico finalizzato al recupero di un tale impianto 'alieno'. Con Pat Parrinello, nell'agosto del 1995, si sottopose allo stesso tipo di intervento chirurgico anche una donna che, avendo richiesto espressamente di mantenere riservate le proprie generalità, indicheremo con il nome di Janet. Questa presentava dei supposti 'impianti' nel piede sinistro. Tali interventi furono eseguiti dal chirurgo Roger K. Leir nella sua sala operatoria sita a Ventura, in California -USA-. I due rapiti sopra citati erano stati portati, al Dott. Leir, dal noto ricercatore Derrel Sims. Gli interventi vennero eseguiti nel massimo riserbo. Nel corso di detti interventi, il Dott. Leir tentò un esperimento. Prima di estrarre gli 'oggetti', diede qualche colpetto proprio in corrispondenza degli impianti. Pat e Janet, ai quali era stata praticata una anestesia locale, reagirono sobbalzando al punto che, quest'ultima, stava per cadere dal tavolo operatorio. Leir rimase colpito da questa reazione, dal momento che l'anestesia locale avrebbe dovuto eliminare ogni tipo di percezione degli stimoli e, quindi, ogni reazione agli stessi. Subito dopo, ecco un'altra scoperta: l'oggetto impiantato nel corpo di Parrinello era magnetizzato. Difatti, avvicinando il sensore di un magnetometro al punto dove questo era innestato, l'indice dello strumento segnava un forte incremento del campo magnetico. Dopo l'estrazione, che risultò piuttosto laboriosa in quanto, - essendo magnetizzato - l'oggetto in questione si attaccava alla lama del bisturi, tale magnetizzazione scomparve. Alla fine dell'intervento chirurgico, dal corpo di Parrinello venne estratto un oggetto di 4 mm. per 2 mm., di colore scuro, avvolto da una membrana di emoglobina e cheratina (sostanze, queste, entrambi presenti nell'organismo umano). Un tale tipo di membrana si forma naturalmente come risposta dell'organismo all'intrusione (accidentale o meno) di un corpo estraneo e, come venne appurato in seguito, il tessuto in questione aveva un DNA (acido desossiribonucleico) compatibile con quello del soggetto ospitante, ossia con quello di Pat Parrinello. Il Dott. Leir escluse subito che, il corpo estraneo estratto, fosse una comune cisti; questo, difatti, oltre a presentare numerose terminazioni nervose, era così consistente che non lo si poteva tagliare nemmeno con uno scalpello.
Dal corpo di Janet, invece, furono estratti due oggetti di composizione simile, uno dei quali era di forma triangolare e misurava 1,5 mm. per lato. Il ricercatore

Derrel Sims

, portò tali 'corpi estranei' all'Università di Houston, per essere sottoposti ad analisi più approfondite.
Il punto centrale della ricerca sui presunti impianti alieni è: questi piccoli 'corpi estranei' sono entrati nell'organismo dei soggetti in modo naturale, oppure sono stati installati da entità allogene?
Sotto la membrana bio-compatibile che li avvolgeva, gli oggetti in questione apparivano composti da lamelle metalliche bianche e lucenti. L'analisi chimica rivelò la presenza di un elemento naturalmente assente nel corpo umano: il Boro. Sottoposti alla luce ultravioletta, tali impianti assumevano una colorazione verde luminosa. A questo proposito, Sims afferma di aver sottoposto altri presunti rapiti alla luce ultravioletta e di aver osservato che, l'effettiva presenza di tali 'corpi estranei' viene evidenziata da una colorazione verde luminosa dell'epidermide sotto la quale gli stessi sono alloggiati. Nel 1996, Sims, dopo aver eseguito numerosi altri esperimenti simili, atti a rilevare la presenza di impianti, affermò di aver recuperato altri 13 oggetti del genere dai corpi di altrettanti individui rapiti da alieni.
Controllo Mentale - Parte 1
Secondo quanto ha scritto il ricercatore statunitense Martin Cannon nel suo libro dal titolo: 'T

he controllers, a new hypotesis of alien abduction

', '…La conferma più interessante della realtà del fenomeno delle abductions (ossia dei rapimenti alieni - N.d.A. -), sta nei cosiddetti 'impianti': minuscoli oggetti - questi - d'incerta natura che molte vittime di rapimento mostrano di avere inserito sotto la pelle, in qualche punto del loro corpo, e che in certi casi risultano essere stati inseriti nella stessa scatola cranica del soggetto (attraverso le fosse nasali), come è stato rilevato attraverso indagini radiografiche e di risonanza magnetica'.
C'è chi ritiene che, tali 'corpi estranei' intracranici rivelati da indagini cliniche del tipo di quelle sopra menzionate, siano sofisticate apparecchiature di origine extraterrestre, usate per il controllo dei soggetti e/o per 'monitorare' l'ambiente circostante. Molti di questi presunti impianti non sono raggiungibili chirurgicamente senza esporre il paziente a gravi rischi per la propria incolumità fisica. In ogni caso, la presenza stessa di tali 'oggetti' non può che rafforzare l'ipotesi, avanzata da molti, di una sorta di 'manipolazione tecnologica' del comportamento e, al limite, anche della psiche, di un gran numero di individui umani da parte di entità di natura - per ora - ignota o, quanto meno, controversa.
Comunque sia, ammettendo - sempre per ipotesi - che i responsabili di un tale operato siano effettivamente una o più specie aliene, non pare che queste facciano ricorso a delle tecnologie 'fantascientifiche'. Anche nell'ambito dello sviluppo tecnologico umano, difatti, da diversi decenni sono in corso studi - e si sono realizzate applicazioni - proprio su tale inquietante campo delle neuroscienze inerente il controllo della mente e del comportamento umano.
Risalgono a circa 40 anni fa le prime ricerche di Josè Delgado, un neurologo della Yale University che, mediante l'elettrostimolazione del cervello, cominciò ad individuare le diverse aree di questo responsabili di certi comportamenti e del manifestarsi di determinati stati emozionali. Delgado realizzò un apparecchio chiamato 'stimoceiver', mediante il quale era in grado di esercitare una sorta di controllo a distanza su animali ed esseri umani. Ad un dato soggetto cavia, sia esso animale o umano, venivano infissi nel cervello alcuni elettrodi i quali andavano a stimolare determinate aree cerebrali. A loro volta, tali elettrodi erano collegati ad un ricevitore di onde radio a media frequenza che si attivavano, selettivamente o in modo combinato, a seconda degli impulsi radio ricevuti. In questo modo, un operatore - da una località anche lontana - agendo opportunamente sullo 'stimoceiver', era in grado di far percepire ed eseguire - al soggetto in questione - tutta una vasta serie di ben determinate sensazioni ed azioni. In uno di tali esperimenti su di un 'paziente' umano, Delgado annotò come, il soggetto in esame, avesse percepito - in successione - le sensazioni di perdita dei sensi, terrore e galleggiamento a mezz'aria. Quest'ultima sensazione, peraltro, è stata indotta ripetutamente nel paziente - nei giorni successivi al primo test - mediante la stimolazione elettrica di aree cerebrali diverse. Ebbene, ogni ricercatore ufologo avrà certamente riconosciuto, negli effetti indotti descritti da Delgado, la stessa sequenza di sensazioni descritte - questa volta - dai 'rapiti', allorquando rievocano la supposta esperienza di abduction da loro vissuta.
In seguito, diversi altri studiosi hanno portato avanti tale genere di ricerche, delle quali i mass-media hanno sempre parlato troppo poco (ma il perché è ovvio e fa rima con 'potere' e 'controllo dell'informazione') nonostante la loro natura davvero inquietante. Uno di questi, Robert G. Heath, della Tulane University, oltre ad essere riuscito ad impiantare fino ad un massimo di 125 elettrodi nel cervello delle sue 'cavie', ha anche scoperto di poterne controllare la memoria, cancellando certi ricordi o evocandone altri. Inoltre, questi era in grado di indurre - nei suoi 'pazienti' - il desiderio sessuale, e sensazioni come la paura ed il piacere associandoli ad allucinazioni percettive. Un altro ricercatore, James Olds della McGill University, invece, ha individuato le aree cerebrali che - opportunamente elettro-stimolate - fanno insorgere (nei soggetti cavia umani) sentimenti quali l'attrazione o la repulsione, ed altre che inducono una sensazione di piacere talmente intensa che il soggetto dimentica ogni altra cosa. A tale riguardo, venne condotta una serie di esperimenti su dei topi i quali, agendo su di una levetta, potevano autostimolarsi. Il risultato fu che, tali animali, rinunciavano ad alimentarsi, bere e dormire, pur di azionare continuamente e freneticamente l'elettrodo fino, ovviamente, a crollare sfiniti. Un altro ricercatore, Bryan Robinson, ha studiato il modo di controllare, con il sistema sopra descritto, il comportamento sociale di animali evoluti come le scimmie. Questi difatti, usando un comando a distanza, riusciva a trasformare gli individui dominanti di un dato gruppo in individui sottomessi, e viceversa. Robinson - inoltre -, era riuscito finanche a controllare i comportamenti istintuali profondi di tali manimali giungendo, tra le altre cose, a fargli venir meno l'istinto di sopravvivenza, o inducendo le madri ad ignorare il richiamo dei propri piccoli
.


Vedi anche : La dottrina dello shock per il controllo psichico

Un importantissimo link su

You Tube

: da guardare ma senza più poter diffondere un filmato del 1964, ripreso in You Tube ed ora cancellato


http://it.youtube.com/watch?v=K572_4RBenI"Estimulacion electrica cerebral en toros (J. Delgado 1964)

Video histórico en el que José Delgado (1964 torea a un toro con un electrodo cerebral implantado gestionado mediante control remoto
DYLAN DOG
IL PROGETTO (l'indagine dell'incubo)
N.176 maggio 2001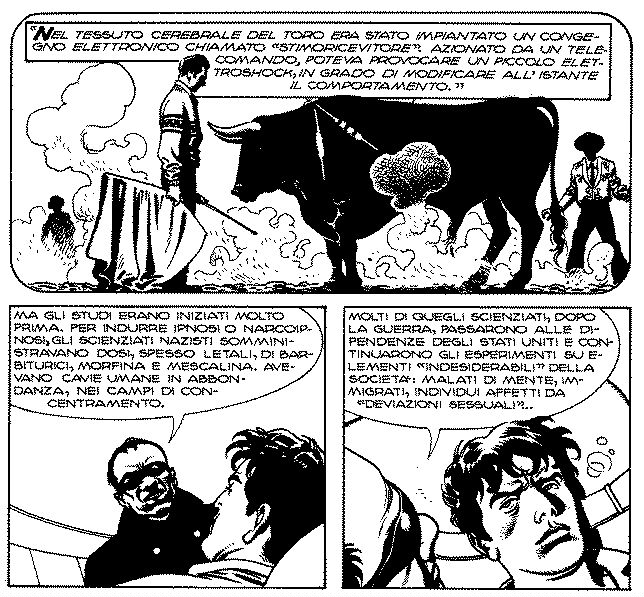 Da considerare quanto può accadere se ci si indirizza in direzione OPPOSTA:
un filmato definito ripetutamente dallo speaker: "impresionante señores"
Un toro riconosce tra centinaia di persone chi lo accudiva


Donald Ewen Cameron (1901-1967) was a Scottish

-

American

psychiatrist. Born in Bridge of Allan, he graduated from the University of Glasgow in 1924. Cameron lived and worked in

Albany

,

New York

, and was involved in experiments in Canada for Project MKULTRA, a United StatesCIA-directed

mind contro

l program. Cameron was the author of the psychic driving concept which the CIA found particularly interesting.
based

Further reading
---
In a novel -
Breaking the silence
-
Diane Chamberlain
describes these circumstances, patients, nurse and psychiatrists disguised on simple fiction characters and their further happenings represented on a poignant, thrilling
relentless suspense and intriguing psychological insight (

Chamberlain is a former psychotherapist

) as well as a satisfying love story
.
In un libro - dal titolo italiano
Cieli sconosciuti
-
Diane Chamberlain
(ex psicoteerapeuta) descrive in forma romanzata le vicende di questa psichiatria, di questi pazienti e le vicende successive che ne conseguono.
---
Gov't settles with CIA brainwashing survivor
July 3, 2007, CTV (Canada's largest private broadcaster)
A Montreal senior who survived Cold War-era brainwashing experiments picked up a cheque for compensation from the [Canadian] federal government on Tuesday. Janine Huard, 79, accepted an offer to end her class-action lawsuit against the federal government, which jointly funded the experiments with the [U.S.] Central Intelligence Agency. The terms of the settlement are confidential, but Huard says it will allow her to live out her days in peace, with some peace of mind. "I was really so exhausted from fighting for so many years,'' Huard told
The Canadian Press
in an interview. Huard was a young mother of four suffering from post-partum depression when she checked herself into McGill's renowned Allen Memorial Institute in 1950. On and off for the next 15 years,
she was one of hundreds of patients of Dr. Ewan Cameron subjected to experimental treatments that included massive electroshock therapy, experimental pills and LSD.

The patients were induced into comas and exposed to repetitive messages for days on end to brainwash them

.
Cameron pioneered a technique called

psychic driving

, which he believed could erase harmful memories and rebuild psyches without psychiatric defect. The idea intrigued the CIA, which recruited him to experiment with mind control beginning in 1950. Until 1964, Cameron conducted a range of experiments at the McGill institute, often without the knowledge or the permission of his patients. The experiments were part of a larger CIA program called
MK-ULTRA
, which saw LSD administered to U.S. prison inmates and patrons of brothels without their knowledge. Huard said the treatment left her unable to care for her children. She suffered memory loss and migraines for many years.
Note: For a powerful summary of MK-ULTRA and other CIA mind-control experiments,
click here
---

HUNDREDS of mentally ill patients who were subjected to barbaric CIA-funded brainwashing experiments by a Scottish doctor could be entitled to compensation following a landmark court ruling.
Doctor
Ewan Cameron
, who became one of the world's leading psychiatrists, developed techniques used by
Nazi scientists
to wipe out the existing personalities of people in his care. Cameron, who graduated from Glasgow University, was recruited by the CIA during the cold war while working at
McGill University
in Montreal, Canada. He carried out
mind-control experiments
using drugs such as LSD on hundreds of patients, but
only 77 of them were awarded compensation
.
Now a landmark ruling by a
Federal Court judge in Montreal will allow more than 250 former patients
, whose claims were rejected,
to seek compensation
.
Gail Kastner
, who underwent electroshock treatment at a Montreal psychiatric institute in 1953, and whose claim was rejected 10 years ago, successfully appealed the judgment. Last week, Alan Stein, of Montreal law firm Stein and Stein

, which represented Kastner, confirmed he was in the process of contacting former clients who could now renew their appeal.
There are about 200 people still due compensation, he said. This judgment should send out strong signals to the Canadian government. Those who have previously missed out should have a strong case for appealing.
Using techniques similar to those portrayed in the celebrated novel - and Manchurian Candidate

, it was believed that people could be brainwashed and reprogrammed to carry out specific acts.

Cameron developed a range of depatterning "treatments" while director of the Allan Memorial Institute at McGill University. Patients were woken from drug-induced stupors two or three times a day for multiple electric shocks. In a specially designed

sleep room

made famous by

Anne Collins's book of the same name, Cameron placed a speaker under the patient's pillow and relayed negative messages for 16 hours a day. Kastner was a 19-year-old honours student suffering from mild depression when she first underwent "treatment" in 1953. On returning home she sucked her thumb, demanded to be fed from a bottle, talked in a baby voice and urinated on the floor. She was ostracised by her affluent family, who were unable to cope with her changed state, and her marriage in 1955 quickly broke down due to her difficulties. Cameron, who was born in Bridge of Allan in 1901, rose to become the first president of the

World Psychiatric Association

. It took two decades and the persistence of Joseph Rauh, the distinguished

American civil

liberties

lawyer, to uncover what happened and secure compensation for some of Cameron's victims.